Komeda – A Soundtrack for a Life
04-02-2010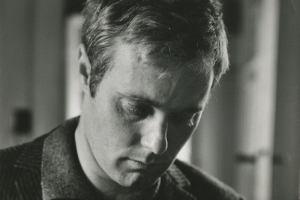 - Special Prize FIPA D'ARGENT in category PERFORMING ARTS at Festival International des Programmes Audiovisuels in Biarritz 2010
Krzysztof Komeda – a Polish medic, Jazz pianist and film composer. His music gained cult-status in Poland. Everywhere else in the world especially his soundtracks stay in mind forever. With compositions like the lullaby for Roman Polanski's Rosemary's Baby Komeda succeeded in writing his own chapter in the history of film music.
The melodious, often melancholic sounds of his music seem to be like the soundtrack for his own dramatic life story: Komeda was an icon of artistic opposition to the communist Poland of the 50s and 60s. He left for America and discovered a completely different way of life. But in 1969 he has a tragic accident and dies at the height of his career only 37 years of age.
The film essay Komeda – A Soundtrack for a life is mainly a reflection on Komeda's soundtracks and their connection to his life. But it is also a contemporary document about the attitude to life in a time of social, political and cultural change after war, about work and exodus of Polish artist in the 50s and 60s
written by  : Claudia Buthenhoff-Duffy
directed by : Claudia Buthenhoff-Duffy
assistant director : Dawid Seffer
photography by : René Dame, Andreas Höfer, Józef Romasz, Vivien Vogel
sound recorded by : Mateusz Adamczyk, Mariusz Bielecki
music by : Andreas Hornschuh, Matthias Hornschuh
edited by: Ewa Will
production manager: Monika Kitner
assistant production manager: Domonika Tomczyk
producer : Julian Benedict /Germany
producer : Wojciech Szczudło /Poland
production : Benedikt Pictures, Studio Filmowe Kalejdoskop, Wave-line GmbH, ZDF, Telewizja Polska SA, Schweizer Fernsehen DRS, YLE Teema
time : 52 min.
year: 2010
Awards:
- Special Prize FIPA D'ARGENT in category  PERFORMING ARTS  at Festival International  des Programmes Audiovisuels in Biarritz 2010.