Production of a project: Maiden's Vow
06-12-2009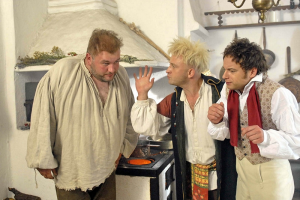 A great ball was the last scene completing the shooting of "Maiden's Vow", a movie produced currently by our Studio, directed by Filip Bajon.
This outstanding play, regarded as an "all-times comedy", shows man-woman relations in a surprisingly timeless, witty and brilliant way. It is a story of Klara and Aniela, who decided to never get married, and of some men trying to gain their favors. The comedy excellently shows some problems which are as well familiar to contemporary young women.
In this biggest Polish production since "The Revenge" and "With Fire and Sword" the famous stars of the Polish movies take part: Anna Cieślak, Marta Żmuda-Trzebiatowska, Edyta Olszówka, Borys Szyc, Maciej Stuhr, Robert Więckiewicz, Andrzej Grabowski, Daniel Olbrychski, Marian Opania, Jan Nowicki, Lech Ordon.
The movie is now in the post-production. The premiere is planned in October, 2010.