"American In Poland" Is A Winner Of NURT 2009 Festival
04-12-2009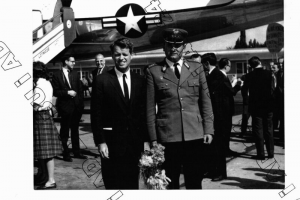 "American in Poland" directed by Piotr Morawski and Ryszard Kaczyński, produced by Studio Filmowe Kalejdoskop was awarded "The Event of NURT 2009" Prize. XV Polish Independent Review of Documentaries NURT 2009 took place – as always – in Kielce.
It is a story of Robert Kennedy's visit to Poland in 1964. The television premiere took place on the 4th of November, 2009, the Channel 1 of the Polish national TV.
In 1964, Kennedy spent 5 days in Poland. He visited Warsaw, Cracow and Jasna Góra (the holy place for Catholics in Poland), where he met the Polish Primate, Cardinal Stefan Wyszyński.
In a Warsaw restaurant he participated in, and enjoyed the wedding party of a Polish couple. The memories of the bride and the bridegroom were also used in the film. The story of that unusual trip of the American Attorney General to Poland "insightfully presents – in the opinion of reviewers – "an impact of two worlds: grayish and miserable Poland under the communist rules of Gomułka with a breath of freshness in that musty Polish People's Republic (PRL)".
The authors of the awarded film were also honored by the Kielce Broadcasting Prize: "For this what is not seen, namely for the artistic perfection of sound in a documentary".