Hotel Polski in competition of VII International Film Festival Jewish Motives
02-03-2010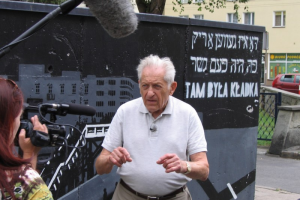 Film "Hotel Polski" has been selected to the 7th edition of the International Film Festival Jewish Motifs
The film reveals the mysterious and almost unknown story from the period of the Holocaust, which took place in "Hotel Polski" in Warsaw in the summer of 1943. By approval and by inspiration of Gestapo, kind of embassy for the Jews  is created in the Hotel. Here they can safely disclose their identity and purchase, for a huge amount of money, Latin-American passports that would save their lives. Despite being afraid (Warsaw has already been announced "Judenrein" – free of Jews!) hundreds of Jews who have been hiding in the Aryan side of the city, came to the Hotel. Most of them achieved to acquire false passports and left "Hotel Polski" going to the West.
Where did they go? What happened to them? Was "Hotel Polski" a trap? Who and why eventually survived?
The film tries to ravel the Hotel  Polski mystery, confronting memories of the last living witnesses to these events from Poland, New York and Israel.